THE MIRACLE KEY
【ELEANOR 2020 MISS HONG KONG MINI MAKE UP COLLECTION (2PCS)】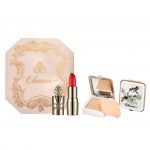 【ELEANOR 2020 MISS HONG KONG MINI MAKE UP COLLECTION (2PCS)】
Set included :
ELEANOR THE MIRACLE KEY SPF20PA++ MINI POWDER FOUNDATION (01 BRIGHT)
Flawless and moisturizing, light and thin, creating a perfect, flawless, moisturized skin.
● The texture is delicate and smooth, and it lasts for a long time, keeping the skin shiny
● Effectively and naturally cover pores, fine lines, pigmentation and dull skin
● Contains to prevent shine, sweat and sebum and maintain perfect makeup
● Suitable for any skin
● Made in Japan
ELEANOR THE MIRACLE KEY SATIN LIPSTICK (09 RED BERRY)
Eleanor The Miracle Key Satin lipstick combining melting balm care with intense colors and a semi matte finish for an immediate true-to-color result. It formulated with concentrated pigments offers intense, long-wearing colour with full coverage, also leaves lips in supple and comfortable feeling in a long period of time.
Product features:
● Long-lasting and Smooth: Its texture is lightweight , soft and comfortable; moisturizes and smooth lips instantly, helps to desalinate the lip lines and makes your lips instantly polish with rich and full coverage .Color stays fresh for long hours.
● Noble exterior: The dazzling golden exterior, coupled with exquisite bowknot for decoration, is so elegant and noble.
● Charming color: 09 RED BERRY makes the lips like cherry blossoms, sweet and lively.
* We make reasonable efforts to accurately display the colours of the products. However, the actual colour you see will depend on your computer system and monitor (or screen), and we cannot guarantee that your computer monitor will accurately display such colours.